Self-priming pump

Type A

The WANGEN progressing cavity pump Type A has swivel pushers inside the suction chamber that switch the pump from suction to pump mode. The pump is not sensitive to foreign objects and the deposition of foreign objects in the suction housing is not possible. In addition, hollow rotors ensure quiet operation.

specification

Max. differential pressure (bar)
Benefits and Characteristics
low Life Cycle Costs
high operational reliability
high priming capacity
high pressure performance
no foreign body deposits in the suction housing
consistent modular principle for high flexibility, low stocking of spare parts, short downtimes for maintenance and repairs
almost pulsation-free conveyance
easy fitting to slurry tankers or trolleys
smooth running thanks to hollow rotors
insensitive to foreign matter
maintenance-friendly
easy, space-saving assembly
good pumping performance even against high pressure
high suction lift (self-priming under certain conditions)
long service life
multi-way slide valve installed in the suction housing, can be operated by hand lever
no tangling of fibers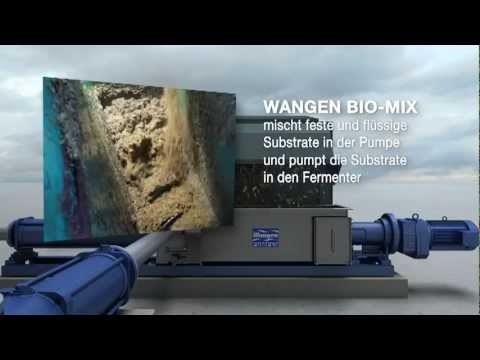 Fields of Application
Attached to slurry tankers, the WANGEN progressing cavity pump of type A is suitable for distributing water, slurry, and thick fluids, such as manure. The drive is implemented via a power take off profile that enables the pump to be easily coupled to the tanker.
distributing
transfer pumping
filling
for use as feeding, unloading and recirculation pump
suction
Suitable for the following media
fertilizer
liquid manure from chicken
cattle slurry
liquid manure
Technology/Details
driven by PTO shaft
stator with s-cone inlet for optimum filling of the pumping chamber
slide valve in suction housing pivotable for suction and delivery
conical slide valve housing with adjustable tap cock
reinforced cardan joint
hollow rotors for smooth running
double, maintenance-free bearing
shaft seal (mechanical face seal with oil quench)
three suction flange in DN 133
| | |
| --- | --- |
| Output | up to 704.5 gpm (at 540 rpm) |
| Dry substance Content | max.15 % |
| Free ball passage | up to 3.43 inch |
What can we do for you?
You have questions, suggestions or you need more information? Then please contact us here. We are pleased.
Form