hygienic twin screw pump

Typ WANGEN VarioTwin NG

Gently feeding high-viscosity media: The hygienic and patented add-on to the WANGEN Twin screw pump. A add-on module of the WANGEN Twin NG with hopper and screw conveyor.

Spezifikation

Max. Förderleistung (m³/h)

Max. Differenzdruck (bar)
Vorteile und Eigenschaften
'coreless' screw for gentle product treatment of media.
hygiene-optimised design; therefore, minimal dead spaces.
cantilevered support system of the screw for maximum hygiene with minimal residues
low space requirement due to compact design.
drive independently controlled pump speed.
low energy consumption due to energy-efficient
materials are FDA-compliant, product-contacting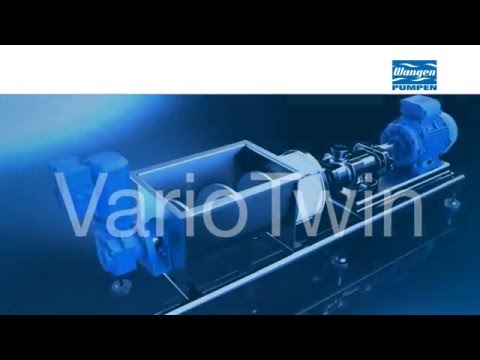 Mögliche Einsatzbereiche
The VarioTwin is the ideal feeder unit to pump highly viscous, not flowable media for the series 104 and 130 of the WANGEN Twin NG. This is due to the forced conveying of the pumped media via the feed screw. To cover the widest possible range of applications, the length of the hopper can optionally be designed at various levels. Therefore, the name VarioTwin NG was chosen.
Geeignet für folgende Fördermedien
high-viscosity dough in the baking industry
fruit, such as strawberries, including frozen fruit
vegetables, such as potatoes
high-viscosity chocolate mixture, waffle rework, marzipan and sugar mixtures (licorice, etc.)
high-viscosity dairy products, such as curd
pulp-containing media, such as additives in food production
high-viscosity soy products (okara)
meat-based products, such as raw mixture of reformed meat, minced meat, sausage meat or pet food
fibre-containing extracts for the cosmetics
high-viscosity chemical products, such as anti-freezing agents, glues (including wood glue) or raw materials and pastes
Technik/Details
hopper available in variable length, optimally balanced to meet the field of application and requirements.
'coreless' screw conveyor enables to return excess material.
particularly gentle feeding
simple, effective cleaning
drive of feed screw in the hopper can be regulated separately.
s-cone adapter element. Connects the feed unit with the WANGEN Twin. Suitable for the Twin 104 and 130.
| | |
| --- | --- |
| Förderleistung | max. 10 m³/h |
| Temperatur | max. +90 °C |
| Viskosität | up to 3.000.000 mPa·s |
Produkte live erleben
Auf folgenden Messen können Sie dieses Produkt live erleben
Was können wir für Sie tun?
24-Stunden Service Hotline:
Sie haben Fragen, Anregungen oder benötigen weitere Informationen? Dann treten Sie bitte hier mit uns in Kontakt. Wir freuen uns.
Zum Formular